COPA America, UEFA Champions League and European Football Championship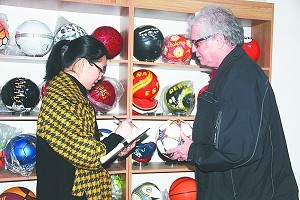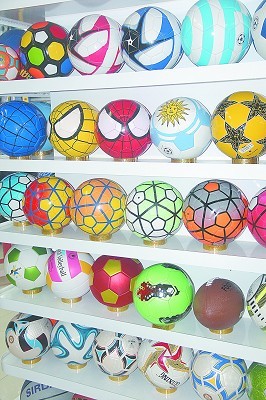 Whenever the international football events, as the UEFA Champions League and European Football Championship, are approaching, orders from Italy, Spain and Germany, the nations which own several world's top teams, will be increasing." According to Yi Ling, the business manager of Yiwu Hightop Sporting Goods Factory.
The Hightop is specially engaged in manufacturing and promoting various kinds and types of football items. Yi Ling told to the reporter that as a matter of fact, the inquiry orders were increasing significantly since last December. "Our customers basically made orders after Christmas, and therefore, almost all the orders came over in this January. More than 100,000 footballs are ordered from this January to March, which are related to the European Football Championship this year." Yi Ling said that the Hightop factory is firing on the production of these orders. "All of these orders shall be delivered on March and April, so as to ensure the enough sales period for our customers. Now time is precious for us."
As many leading football teams in the world are scattered all over the Europe, football is almost a public exercise for Europeans, and a number of famous brands would never miss this kind of business opportunity with the means of promotion balls. For the current orders the Hightop received recently, more than a half of the total numbers are promotion balls.
"And of course, many South American customers came to the market for the 2016 Copa América Centenario." Chen Li, the director of 422 Sporting Goods Factory told to the reporter that her factory has received many orders from South American nations as Argentina, Brazil and Uruguay since the end of last year, "they purchased 10 pieces of parcels of footballs at least, and even purchased one container at most (within 700 pieces of goods). All the orders are basically mixed parcels, containing footballs with every design and pattern".
The 2016 Rio de Janeiro Olympic Games is closely followed after the 2016 Copa América Centenario and the European Football Championship. The business opportunities brought by Olympic Games are emerging gradually in Yiwu market. And of course, customers from Europe as well made several orders related to promotion balls targeting Olympics. "Most of these kinds of orders are made by local brands in Europe, and the amount is await to be released." Yi Ling estimated that the Olympics orders would be continuously made in the following two months.
Nick Bryant, www.yourchinagent.com Sourcing, purchasing, exporting, shipping, business consulting…Mobile & WHATS APP: +86 138 589 41517
+86 138 589 41517
Email: nickbriant@yourchinagent.com
Skype: squall660
Facebook: www.facebook.com/nickbriant007
LinkedIn: cn.linkedin.com/in/nick-bryant-81902536
A partner of NEXUS GOLD (Israel), DMG Sp z.o.o. (Poland), CHATZIELENIS S.A.(Greece) ...
CHINA AGENT, BUYING AGENT, SOURCING AGENT, PURCHASING AGENT, YIWU AGENT, YIWU MARKET, CHINA WHOLESALE MARKET, CHINA COMMODITY MARKET, BUY FROM CHINA, TRADE AGENT, EXPORT AGENT, SHIPPING AGENT, CHINA DIRECTORY